Projects focusing on Tikkun Olam in our local community and the broader Jewish community have been carried on by our congregants and religious school students.
The students collected books and donated them to Israel through the "Books for Israel" project.
B'nai Mitzvah students collected books for the local "Rediatrics Book Drive". The students read the books to children who were hospitalized and the books were given to the children.
Two concerts have been held at the Dahl Arts Center with the proceeds being donated to local organizations.
On March 30th, 2011, The "Lil' Rev" concert brought Jewish heritage to the stage with the performance of "Fiddler on the Roof Meets O Brother Where Art Thou." The concert was sold out. Everyone in the audience enjoyed the event. The Synagogue extended goodwill to the Rapid City community in several ways: awareness of Jewish Folk Music and culture; a family oriented entertainment option; and donation of the proceeds to "Feeding South Dakota."
On March 16, 2013, The "Melody and Mirth" concert was also held at the Dahl Arts Center. The idea behind this concert was to share the humorous talents of our student rabbi, Michael Danziger, in the form of a Social Action progam with the entire Rapid City community. Student Rabbi Michael has been voted "The Funniest Jew In The Deep South". He brought his jokes to the stage as emcee for the concert and had the audience laughing and smiling throughout the evening. Three local blue grass bands filled the show-bill. It was a lively evening filled with music, singing and entertainment. Proceeds from the event were donated to "Working Against Violence, Inc."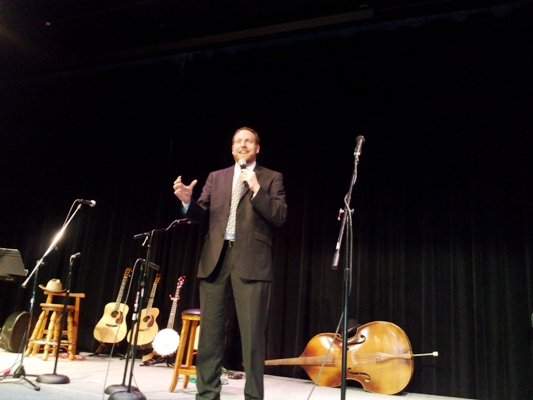 Sudent Rabbi Michael Danziger
Deadwod Express